http://www.sandersandjohnson.com
(3)
(303) 422-6606
7100 Broadway
Denver, CO 80221
Saturday closed (show)
Monday: 8:00am - 4:30pm
Tuesday: 8:00am - 4:30pm
Wednesday: 8:00am - 4:30pm
Thursday: 8:00am - 4:30pm
Friday: 8:00am - 4:30pm
Saturday: closed
Sunday: closed (hide)
Emergency Services;Radio Dispatched
http://www.dexknows.com/business_profiles/sanders_and_johnson_inc-b482878
Is this your business? Claim it now!
HONEST Work For HONEST Prices Since 1977
Hours:
MON

8:00am - 4:30pm

TUE

8:00am - 4:30pm

WED

8:00am - 4:30pm

THURS

8:00am - 4:30pm

FRI

8:00am - 4:30pm

SAT

closed

SUN

closed
Emergency Services;Radio Dispatched
Description: OUR MISSION
To provide ALL our customers with "Honest work for Honest prices." Let Jim or Dan assess your heating and cooling needs and give you a free no pressure equipment installation estimate. Our continued goal is Customer Satisfaction.

COMPANY PROFILE
Jim Sanders and Dan Johnson started Sanders & Johnson in 1977. We are one of the few Companies in Denver to still be run by the original owners. We are totally customer oriented and provide personalized service. Jim or Dan will come to your home and give you a free estimate on equipment installation. You'll find our low pressure and honest assessment of your heating and cooling needs quite refreshing. We value both you as a customer and your time. We do what we say we're going to do, when we tell you we're going to do it. Sanders & Johnson also has a complete residential service department run by Don Watt, our very 1st employee in 1980.
We are listed on the BBB website and are part of their customer care network. Sanders & Johnson has been selling fine Amana products for over 25 years.
Heating Contractors near Sanders & Johnson Inc
PHOTOS AND VIDEOS (2)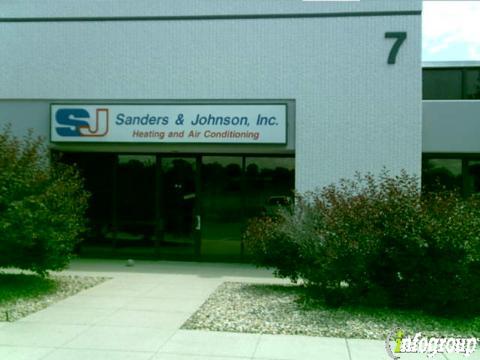 Impressive!
by slowpoke , 12/13/2011
I was one of thousands taking advantage of tax incentives to replace an ancient furnace with a high-efficiency model. I got personal service, helpful hard data regarding my house and the model options, and superb removal and installation service. Every member of this team, from owner to roughneck, was courteous, timely, and competent. My best furnace experience in decades of home ownership.
Good Reliable Company
by Gnome143 , 07/20/2011
These guys are apparently used to being professional, for that is what they were. Once contacted they showed up when they said they were going to without 3 or 4 phone calls saying they would be late; assessed the problem and discussed it with me before beginning. When when they were finished, they cleaned up their mess leaving no tell-tale sign that they were even there. Their invoice was also a bit below what the estimate was. What else could you ask for?
worst experience!!!
by Greg , 07/26/2010
My Brother and I called them out to fix his condenser. Cocky and arrogant, they insisted my brother needed a new compressor. We finally asked them to leave and had another company come look at it. The other company changed a capacitor ( a 15$ part) and charged us 75$ witch is fair for labor and knowledge as opposed to 2500$+ for no knowledge.