"Simply Amazing Service In 15 Minutes Or Less"
8001 Wyoming Blvd NE
Albuquerque, NM 87113
Hours:
MON

8:00am - 6:00pm

TUE

8:00am - 6:00pm

WED

8:00am - 6:00pm

THURS

8:00am - 6:00pm

FRI

8:00am - 6:00pm

SAT

9:00am - 3:00pm

SUN

closed
Description: Leave the days of dreading the DMV in the dust! MVD Express is an express license service company in Albuquerque, N.M. MVD Express vows to accelerate your day, and get you back on the road as soon as possible.

There are so many things you need before you can drive. Now, you can get them all at MVD Express! We're always looking to add new services, so you can get in, get done, and get going.

Some of the services we offer to make your experience better include:


Drivers License and ID Card Renewal

License Plates

Vehicle Registration

Handicap Placards

MVR Record Checks

Vehicle Titles

Written Drivers License Exams

There will always be speed limits on the road. At MVD Express, we're always looking for ways to go faster! We just added six more locations with longer hours across New Mexico, so you can avoid line-traffic, and get back to your car.

We're not your normal DMV! Our emphasis is on customer satisfaction. At MVD Express, we know the way to keep you satisfied is to get you out the door with what you came for. Our average wait time is between five and fifteen minutes! If you're tired of waiting on slow-lane service, get moving again with MVD Express!

Call MVD Express today to find out what you need to get in, get done, and get going!
Languages Spoken:
spanish
Certification and Affiliations:
Licensed
PHOTOS AND VIDEOS (2)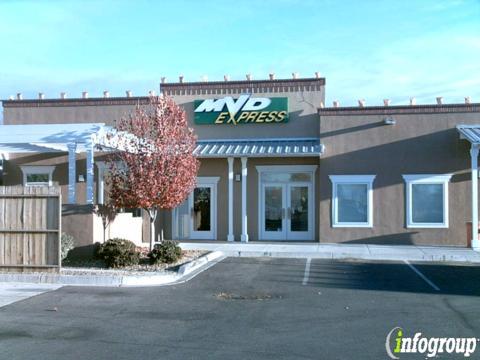 Be the first to write a review MVD Express