(2)
(702) 647-4522
6501 W Lake Mead Blvd
Las Vegas, NV 89108
Tuesday 8:00am - 5:00pm (show)
Monday: 8:00am - 5:00pm
Tuesday: 8:00am - 5:00pm
Wednesday: 8:00am - 5:00pm
Thursday: 8:00am - 5:00pm
Friday: 8:00am - 5:00pm
Saturday: 8:00am - 5:00pm
Sunday: 8:00am - 5:00pm (hide)
http://www.dexknows.com/business_profiles/liberty_baptist_church-b93479
Is this your business? Claim it now!
Hours:
MON

8:00am - 5:00pm

TUE

8:00am - 5:00pm

WED

8:00am - 5:00pm

THURS

8:00am - 5:00pm

FRI

8:00am - 5:00pm

SAT

8:00am - 5:00pm

SUN

8:00am - 5:00pm
Description: Welcome to Liberty Baptist Church!

Liberty Baptist Church has been serving the Las Vegas Valley for over 30 years. Our desire is to see our city grow in the knowledge and love of Jesus Christ. We sincerely desire to be a lighthouse and a place you can call home. At Liberty, we strive to create a strong sense of family that binds us together in the unity of love and friendship.

Our church is a place where ordinary people are experiencing an extraordinary God. People from all walks of life are finding joy and a peace that passes all understanding here at Liberty. As a church family our goal is to connect with people, grow in God's Word and grow in the wonderful grace of our Lord Jesus Christ. It is here at Liberty that God is building a place for Las Vegas Valley to call home.

Call or visit our website for more detailed information.
Additional Contact Information
Fax: (702) 647-8083
Churches near Liberty Baptist Church
PHOTOS AND VIDEOS (2)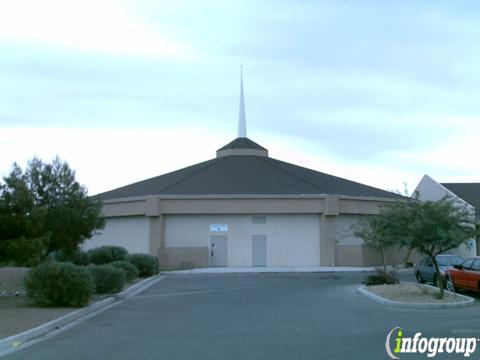 WOW THIS CHURCH IS AMAZING!!!
by collegestudent21 , 09/11/2011
This church is amazing the Pastors and teachers are so nice and know the Word of God. They are not going to teach you anything that is of their own oppinion, but only what comes from the Bible. This place teaches you how you can know you are going to heaven! This is an amazing church for anyone in search of the Truth. The pastors will only tell you truth and this is SO hard to find in America today. I LOVED visiting this church
Ahhhh.....Home at last!!
by clh-jrh727 , 03/23/2009
It is nice to know that in the Heart of Sin City there is a place you can go and have people that you can trust, that you can count on and that really do care about you. My family and I have had our live's Blessed by this Church many times over! If you are looking for a Church that cares about you, then you have found it!!