Practical Funerals & Cremation.
Owner Verified
8638 US Highway 50
Lebanon, IL 62254
OPEN NOW
Wednesday 24 Hours (show)
Monday: 24 Hours
Tuesday: 24 Hours
Wednesday: 24 Hours
Thursday: 24 Hours
Friday: 24 Hours
Saturday: 24 Hours
Sunday: 24 Hours (hide)
powered by
Billboard - The latest coupons and news on this business!
What's New
Kalmer Memorial Services is the newest and most affordable funeral home and crematory in the Metro East.
Hours:
MON

24 Hours

TUE

24 Hours

WED

24 Hours

THURS

24 Hours

FRI

24 Hours

SAT

24 Hours

SUN

24 Hours
Description: Kalmer Memorial Services in Lebanon, IL, offers a practical solution to the high costs of funeral and cremation services found at other facilities in the Metro East. Our professional service and modern facilities mean you will never have to compromise for this affordability. Losing a loved one is hard enough without having to worry about the financial impact of their memorial service.

Kalmer Memorial Services include:


Traditional burial

Cremation

Chapel to hold 50

Caskets, urns and vaults

Green burial packages

Pre-planning services

Our facility was opened in 2009 by Joseph G. Kalmer who has 25 years of experience as a funeral director. He understands how uniquely personal disposition needs are and works patiently and compassionately with each and every client. He also realizes that memorial services can be expensive and genuinely works to ensure affordable services so that you can focus on your memories and loved ones.

Call Kalmer Memorial Services when it is time to discuss plans for a memorial or funeral service.
Payment Methods:
Bank Checks, Cash, Debit Cards, Discover, Insurance Accepted, Mastercard, Personal Checks, Visa
Area Served:
Clinton County, IL;Saint Louis East Area, IL Metro
Products:
Caskets, Urns, Vaults & Mausoleums, Obituaries & Death Notices
Services:
Embalming, Funeral Home Services, Grief Counseling, Burials, Cremations, Military & Veteran's Services, Prearranged Funeral Planning & Counseling, Funeral Directors, Funeral Information
PHOTOS AND VIDEOS (6)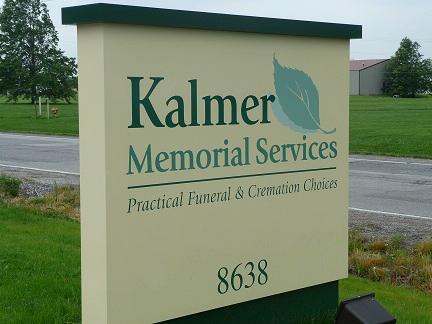 Be the first to write a review Kalmer Memorial Services