http://www.familyfuncenterxl.com
(3)
(402) 554-1925
10765 M St
Omaha, NE 68127
Wednesday 10:00am - 12:00am (show)
Monday: 10:00am - 12:00am
Tuesday: 10:00am - 12:00am
Wednesday: 10:00am - 12:00am
Thursday: 10:00am - 12:00am
Friday: 10:00am - 1:00am
Saturday: 10:00am - 1:00am
Sunday: 11:30am - 12:00am (hide)
http://www.dexknows.com/business_profiles/family_fun_center_xl-b422965
Is this your business? Claim it now!
Omahas Newest amily entertainment center Family Fun Center XL
Hours:
MON

10:00am - 12:00am

TUE

10:00am - 12:00am

WED

10:00am - 12:00am

THURS

10:00am - 12:00am

FRI

10:00am - 1:00am

SAT

10:00am - 1:00am

SUN

11:30am - 12:00am
Description:
The Family Fun Center XL is very proud of our new blacklight putt putt mini golf course called "Glow Golf: Heroes". It is the coolest thing to hit the mini golf Omaha course scene in years and you are going to love it. Every hole is themed to a different videogame hero or heroine through time. You'll find all your favorites like Pacman, Mario, Link and much more!- 18 holes of indoor putt putt mini golf- Blacklight with bright glowing fluorescent holes and obstacles (but not too dark)- Watch the history of video games and world history unfold from the 70s thru today- Every hole is specially designed to represent a video game hero or heroine- Fun and challenging hole design with a hole-in-one possible on every hole- This is going to be a mini-golf experience unlike anything you've had before on a miniature golf course in Omaha!
Restaurants near Family Fun Center XL
PHOTOS AND VIDEOS (2)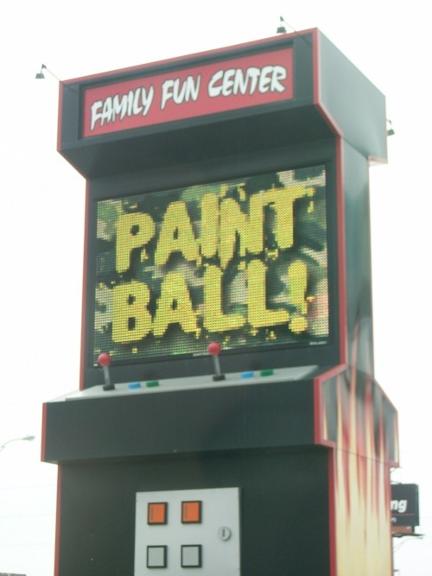 Over priced, dirty, rip off
by Sam , 07/20/2012
Not a very good selection of games. You have to have a swipe card and there is always a little money left on the card but not enough to play a game. At least 5 of the games charged my card when I tried to play a game but the game would not work. The games are over priced and the place is dirty. We will not return, what a rip off.
THE BEST PLACE IN TOWN
by LOUISIANA BOUND , 12/29/2009
I LIVEDIN OMAHA FOR YEARS BEFORE I MOVED AND THIS WAS THE BEST PLACE TO SPEND MY TIME IN TOWN. THE FACILITY WAS SUPER HUGE AND THE GAMES HAD ME TOTALLY SPACED OUT FOR HOURS.
Thanks for moving to our neighborhood!
by West O Crew , 04/11/2012
I cannot believe Family Fun Center moved out WEST! We always struggled with the choice to go so far midtown when we live out west. Now that they are at 108th & L we can get there quick on the Interstate. The name changed to Family Fun Center XL..... and upon our first visit, I would say they lived up to their name change. New and modern everything, new games, new attractions, new food menu with Icee and starbucks.... thanks FFCXL for coming to our neighborhood!!!!!!