(1)
(623) 780-8024
23811 N 7th Ave
Phoenix, AZ 85085
http://www.dexknows.com/business_profiles/desert_valley_auto_parts-b1842404
Is this your business? Claim it now!
Description: Desert Valley Auto Parts invites you to browse the largest Classic Car salvage yards on the Internet. DVAP is a 40 acre salvage yard with 2 main locations which specializes in Classic Cars and parts from the 40's, 50's, 60's and 70's (and some 80's). Please feel free to browse the classic cars we have for sale as restoration projects. You may also submit a request for that hard to find classic part you have been looking for. We will search our salvage yards of 5000+ parts cars for the parts to complete your restoration. To view or projects click on "Survivors" on the top of this page. Want to look through our parts cars, click on "Yard". We have now added "Off Parts Rack" where you can see some of the parts that been removed from cars and stored in racks. Dont forget to watch some of the vidoes we have posted!

Note: "Part ID" can be filled out once you find a car on the site and want to go back to that car without having to complete all the drop downs.

A "Part ID" is the number assigned to a car that's within the yard. You can NOT type in a part needed in this field. An Example of an ID is (74CH1222D) this includes a break down of year (74) Make (CH=Chevy) stock number (1222) and yard location ( D= northyard). These numbers will assist us when you call to locate the car that you need parts from. You do NOThave to fill out every field if you are just browsing. For example, if you know the part you need which fits all full size Chevys but not sure if we have more Belairs than Impalas, simply fill out the "Make" field and it will pull up all the Chevy's by year and there will be a small thumb-nail image you can see as you scroll threw the list.
In the event that Desert Valley Auto Parts has approved a part return, please know that there will be a re-stocking fee of 20%, and that shipping charges may accumulate as well. Please speak to your salesperson for charges.
Additional Contact Information
Fax: (623) 582-9141
Toll Free: (800) 905-8024
Auto Parts near Desert Valley Auto Parts
PHOTOS AND VIDEOS (1)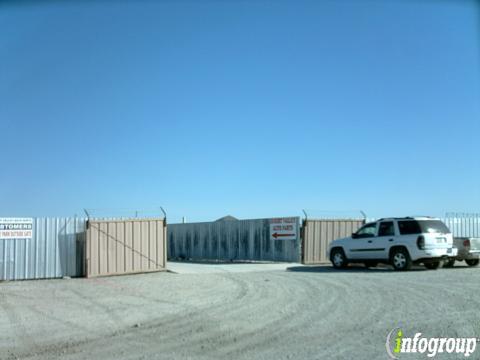 WOW BEST YARD IN USA
by Car Guy , 04/12/2010
These guys are great. A little rough around the edges as far as customer service goes but if you can look past that they have got top quality parts.