The boiler experts you can depend on!
305 W Saint Louis Ave
Las Vegas, NV 89102
Hours:
MON

24 Hours

TUE

24 Hours

WED

24 Hours

THURS

24 Hours

FRI

24 Hours

SAT

24 Hours

SUN

24 Hours
Description: From cleaning to installation to repair, Desert Boilers and Controls in Las Vegas is your water system and boiler expert. We are proud to serve both commercial and industrial clients throughout the Vegas metro with top quality and efficient workmanship. We stock and sell the parts you need to get your boilers and pumps back in perfect working order in no time.

We offer routine maintenance as well as 24-hour emergency repairs any day of the week. Our areas of expertise include:


Steam and hot water systems

Boiler cleaning and repair, Refractory service

New and used boiler sales and rentals

Heat pumps and exchangers

Controls, Variable Frequency Drives

Pump install, maintenance and repair


We are highly experienced with both gas and electric water boilers. We also perform AQMD Source Testing services. Visit our website for more information and a lineup of our premium product offerings.

Call Desert Boilers and Controls today!
Ownership:
Assurances: Locally Owned, Locally Owned
PHOTOS AND VIDEOS (2)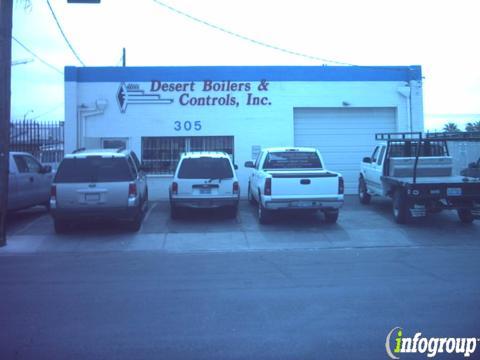 Be the first to write a review Desert Boilers & Controls Inc