Celebrating Loved Ones Since 1985.
Owner Verified
8300 W Lawrence Ave
Norridge, IL 60706
OPEN NOW
Saturday 8:00am - 9:00pm (show)
Monday: 8:00am - 9:00pm
Tuesday: 8:00am - 9:00pm
Wednesday: 8:00am - 9:00pm
Thursday: 8:00am - 9:00pm
Friday: 8:00am - 9:00pm
Saturday: 8:00am - 9:00pm
Sunday: 8:00am - 9:00pm (hide)
powered by
Hours:
MON

8:00am - 9:00pm

TUE

8:00am - 9:00pm

WED

8:00am - 9:00pm

THURS

8:00am - 9:00pm

FRI

8:00am - 9:00pm

SAT

8:00am - 9:00pm

SUN

8:00am - 9:00pm
Description: At Cumberland Funeral Chapels we are dedicated to creating healing experiences in our community. Our family-owned and operated funeral home is located in Norridge, IL, serving the northwest side of Chicago since 1985.

Cumberland is committed to providing you with unmatched personal care, our staff of professional funeral directors will arrange a service that that reflects and celebrates the life of the deceased.

Some of our funeral service options include:


Traditional funeral services

Traditional cremation services

Graveside services

Memorial services

Immediate burial

Immediate cremation

These funeral services allow friends, family, and community to gather in encouragement and support for those who have lost a loved one.

We also offer a pre-planning program and pre-funeral counseling so that the loved one the service is intended to celebrate may add personal touches or just share in the basic decision-making process.

While many people hesitate at the thought of pre-arranging services, Cumberland Funeral Chapels offers this responsible and important service because it can prevent unnecessary financial and emotional distress. There are just so many decisions and details associated with funeral arrangements.

Our acclaimed staff is available 24 hours a day.

Please call Cumberland Funeral Chapels today for more information.
Payment Methods:
Personal Checks
Languages Spoken:
Italian
Additional Contact Information
Fax: (708) 456-8300
PHOTOS AND VIDEOS (4)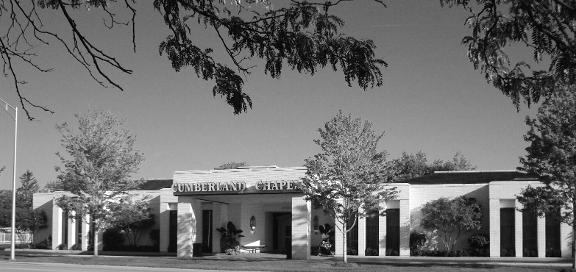 Be the first to write a review Cumberland Funeral Chapels