Glass Is What We Do.
Owner Verified
4532 S 6th St
Klamath Falls, OR 97603
OPEN NOW
Monday 8:00am - 5:00pm (show)
Monday: 8:00am - 5:00pm
Tuesday: 8:00am - 5:00pm
Wednesday: 8:00am - 5:00pm
Thursday: 8:00am - 5:00pm
Friday: 8:00am - 5:00pm
Saturday: closed
Sunday: closed (hide)
powered by
Billboard - The latest coupons and news on this business!
What's New
Free local pick up & delivery on cars and pick-ups!
Hours:
MON

8:00am - 5:00pm

TUE

8:00am - 5:00pm

WED

8:00am - 5:00pm

THURS

8:00am - 5:00pm

FRI

8:00am - 5:00pm

SAT

closed

SUN

closed
Description: Cook's Glass Co., located in Klamath Falls, OR, features a wide variety of glass services ranging from windows and glass doors to windshield chips and more. For automotive, residential, and commercial needs, the OEM-certified technicians at Cook's Glass Co. are your glass experts.

At Cook's Glass Co., we specialize in auto glass, especially hard-to-find windshields for classic cars. We provide lifetime warranties on all installations and are committed to meeting all insurance company standards for price, quality and warranties.

Our full spectrum of services and products includes:


Auto glass

Windshield chip repair

Vinyl windows

Glass doors

Shower doors and mirrors

Plexiglass

At Cook's Glass Co., our number one priority is your safety. Our certified technicians conduct all repairs and services under the regulations of Federal Motor Vehicle Safety Standards (FMVSS). We also have two technicians set windshields at all times to assure a proper set. We guarantee the regulation of all repair work to ensure that all parts and their installation meet the performance requirements that contribute to your safety.

Call Cook's Glass Company today for more information about our services. Glass is what we do!
Payment Methods:
Discover, MasterCard, VISA
Products:
Auto Glass, Custom Windows, Commercial Glass, Glass, Glass Doors, Vinyl Windows, Home Glass, Decorative Glass, Shower Doors, Beveled Glass, Commercial Windows, Windshields, Windows, Mirrors, Doors
Services:
Windshield Installation, Windshield Replacement, Glass Repair, Repairs
Specialties:
Car Glass, Commercial Glass, Commercial Windows, Home Glass
Additional Contact Information
Fax: (541) 884-2665
PHOTOS AND VIDEOS (5)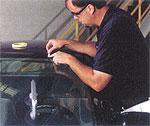 Be the first to write a review Cook's Glass Co.