(2)
(618) 259-8712
201 W Saint Louis Ave
East Alton, IL 62024
Monday 8:00am - 6:00pm (show)
Monday: 8:00am - 6:00pm
Tuesday: 8:00am - 6:00pm
Wednesday: 8:00am - 6:00pm
Thursday: 8:00am - 6:00pm
Friday: 8:00am - 6:00pm
Saturday: 8:00am - 5:00pm
Sunday: closed (hide)
http://www.dexknows.com/business_profiles/clark_boat_and_motor_company-b155817
Is this your business? Claim it now!
We Display Over 100 Boats
Hours:
MON

8:00am - 6:00pm

TUE

8:00am - 6:00pm

WED

8:00am - 6:00pm

THURS

8:00am - 6:00pm

FRI

8:00am - 6:00pm

SAT

8:00am - 5:00pm

SUN

closed
Description: Welcome to Clark Boat & Motor Co.!

Clark Boat & Motor Co. is a dealership serving St. Louis, MO and the surrounding area. Our family owned and operated recreational vehicle company has been providing area residents with a vast selection of boat and motor vehicles, as well as a full array of parts and services. Whether by land or by sea, Clark Boat and Motor Co. will be there to serve all of your recreation needs! If you think we don't have a part that you need, guess again.

We display over 10,000 parts and offer repair on most outboards and inboards. So when it comes to fixing up your boat, we have what it takes. Our service technicians are able to take care of everything in one place. In addition, our online parts center allows you to order exactly what your vehicle needs with just a click of your mouse.

We also offer:


Delivery

Service Calls

Online Marine, Parts & RV Store

Our hours change with the seasons, so we are sure to be available to our customers when they need us most! Visit our web site for more information and to see what we have to offer you! You won't be disappointed with our selection and our quality service.

Call us today!

We Display Over 100 Parts
Boat Dealers near Clark Boat & Motor Company
PHOTOS AND VIDEOS (2)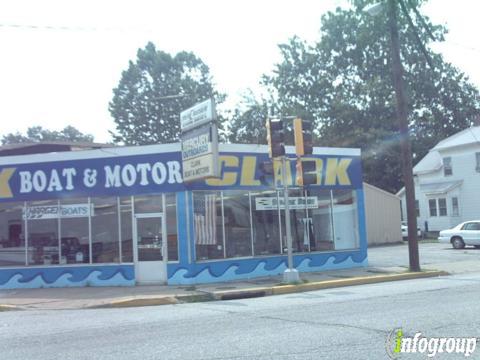 so so
by browning , 03/10/2011
Bought a boat from Clark Boat & Motor in 2009 they treated me like a king, they had very fast service, I got my boat and was fishing in no time. Then I took my boat to get a repair done (which I'm paying for and am not expecting it for free at all) they had it for a month so I called to check on it they gave me to the run around so I went to their place of business to talk to them about it and it was sitting in the same spot where I dropped it off. I heard they had bad service in the repair department but it was too late I had already bought the boat from them. So I'm giving them two stars just because of the service I received when they wanted my money when buying the boat.
Customer
by Bubba , 01/15/2009
I have dealt with Clark for 2 decades. They do a good job and their prices are reasonable. I reccommend them for new or used and repairs are done right- Lin- Illinois