Children's Dental Care Specialists.
Owner Verified
542 Snelling Ave S
Saint Paul, MN 55116
Hours:
MON

----

TUE

----

WED

----

THURS

----

FRI

----

SAT

----

SUN

closed
Description: Children's Dental Care Specialists, located in St. Paul, MN, specializes in providing comprehensive dental care for children. To serve your family better, we also have an office in Edna, MN. Dr. Amey enjoys being a part of your child's healthy growth and development. As a pediatric dentist office, we provide a variety of advanced professional services and treat toddlers through teens. We also are a member of the American Academy of Pediatric Dentistry.

Locally owned, Children's Dental Care Specialists takes pride in providing unique service based on each child's needs and concerns. We offer dental phobia and sedation options using nitrous oxide to make every visit a comfortable one.

Our pediatric services include:


Dental cleaning

Fillings

Pediatric endodontic services

Sealants

Children's prosthodontics services

Pediatric cosmetic services

Dental bonding

Additionally, we also can provide nerve testing, preventative care and emergency care. Have a goal in mind for your family's smiles? Let us help you achieve it!

Call Children's Dental Care Specialists to make your appointment today!
Payment Methods:
Cash, Debit Cards, Mastercard, Personal Checks, Visa
Area Served:
Minneapolis, MN Metro;Saint Paul;Saint Paul, MN Metro
Minority/Female Owned:
Assurances: Independently Owned & Operated, Assurances: Locally Owned & Operated, Locally Owned
Certification and Affiliations:
AMEY Severson, D.M.D. & Associates
Services:
Bridges, TMJ Relief, Crowns, Dentures, Fillings, Root Canals, Dental Sealants, Teeth Cleaning, Nitrous Oxide, Partial Dentures, Dental Implants, Cosmetic Dentistry, Cosmetic Bonding, Bridges & Crowns, Children's Dentures, Cosmetic Pediatric Dentistry, Cosmetic Prosthodontics, Dental Reconstruction, Denture Exams, Pediatric Endodontics, Pediatric Orthodontics, Sedation, Tooth Extractions, Pediatric Periodontics
Specialties:
Anesthesia, Biopsies, Cancer Screening, Cosmetic Pediatric Dentistry, Dental Consultants, Dental Hygienists, Emergency Care, Examinations, Exams, Extractions, Fillings, Fluoride Treatments, Infection Control, Nerve Testing, Numbing, Pediatric Endodontics, Pediatric Orthodontics, Pediatric Periodontics, Polishing, Preventive Care, Repairs, Stain Removal, Straightening, X-rays
PHOTOS AND VIDEOS (5)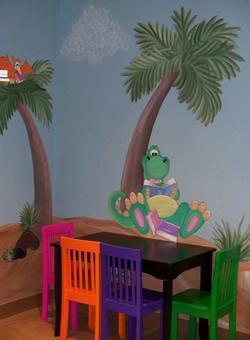 Be the first to write a review Children's Dental Care Specialists