http://www.chapmanchryslerjeep.com
(5)
(702) 558-3000
930 Auto Show Dr
Henderson, NV 89014
OPEN NOW
Saturday 8:00am - 9:00pm (show)
Monday: 8:00am - 9:00pm
Tuesday: 8:00am - 9:00pm
Wednesday: 8:00am - 9:00pm
Thursday: 8:00am - 9:00pm
Friday: 8:00am - 9:00pm
Saturday: 8:00am - 9:00pm
Sunday: -- (hide)
http://www.dexknows.com/business_profiles/chapman_chrysler_jeep-b41553
Is this your business? Claim it now!
Billboard - The latest coupons and news on this business!
Hours:
MON

8:00am - 9:00pm

TUE

8:00am - 9:00pm

WED

8:00am - 9:00pm

THURS

8:00am - 9:00pm

FRI

8:00am - 9:00pm

SAT

8:00am - 9:00pm

SUN

----
Description:
Chapman Chrysler Jeep of Henderson, Nevada features a full inventory of Chrysler & Jeep SUV's and Cars. Our Used Car Inventory includes CarFAX's, Videos and up to 40 actual photos of each vehicle. Our full featured website includes actual photos of our New & Used Chrysler Jeep Inventory. Our web site is part of our ongoing effort to provide our customers with convenient access to useful information and satisfying service. Use our site to locate your next Chrysler or Jeep. See for yourself why Chapman Chrysler Jeep is the Valley's Number one Chrysler Jeep Dealer in Nevada. Chapman Chrysler Jeep is Henderson's only Premier Authorized Chrysler Jeep Dealer! Located in Henderson, Nevada, Chapman Chrysler Jeep serves the entire Nevada area including Las Vegas, North Las Vegas, Summerlin, Green Valley, Henderson and the surrounding area.
Additional Contact Information
Fax: (702) 558-3065
Auto Body Repair near Chapman Chrysler Jeep
PHOTOS AND VIDEOS (1)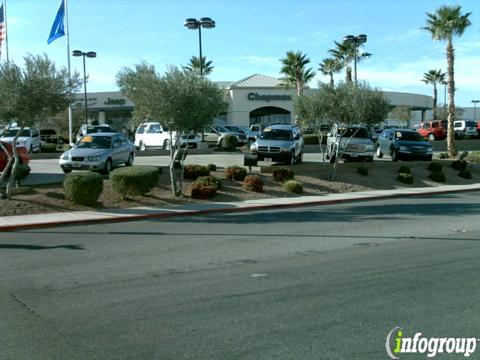 Great Service
by Service Area , 12/14/2012
I was truely suprised at the great service I received from Chapman because of the bad reviews I had read before I went to them. I was greeted at my car by trained service person who tried to fix the problem even before I had gotten inside. Once inside I was sent to a great waiting room. I was then greated by the person who acually fixed my car and he explained what was wrong and how he fixed it. I was out very quickly with no problems. What a great experience.
Still the best deal ever. (My correction)
by PAQ , 11/29/2012
OMG Please so ever for ever forgive me. I am soooooo embarrased. My finance person on my car, I purchased 1 year and 2 monhs ago, was Jamie Daehler. I am so embarrassed to have gotten that wrong. I am hopeful I have spelled it correctly this time. And yes she is a fantastic finance person and all around person. Forgive me Jamie? And once again Chapman Jeep on Auto Show Rd in Henderson is the place to get a car.
The best deal ever !!!
by PAQ , 11/27/2012
What is wrong with you people. I got a great deal on a nice car with my lousy rade-in that no one else wanted. They financed me in house where no one else would. It was suggested to buy a warrenty since it was a used car I agreed and had that financed as well. Wow and guess what the warrenty has already paid for itself. Three (3) months ago my air conditioner quit. The compressor completely blew out. It cost over $1,800.00 which without the warrenty I could not have fixed. I only paid $100.00. I have a great salesman Vinnie Robles. He has stayed with me on the car from the begining. And I will be buying another car from him shortly. I have had a great repair crew, supervised by Casey Reynolds. I have had other work done at a very reasonable prices with reasonable, accomidating, quick crews. They have provided me over 1 year of free oil changes. I have been with Chapman over 1 year and will remain there for my future cars. The financing staff was fatastic. Dana Davis got me financed quickly and in house. I have only good things to say about this business and highly reccommend you go see "my people" at Chapman Jeep on Auto Show Rd. in Henderson. People you can trust.
Chapman is not the place to buy a car!
by yutto1 , 05/15/2012
Chapman was the most disappointing experience. I will be sure to spread the world to all of my UNION BROTHERS to find another auto dealer. You do not deserve any business or money from hard working Americans. So just continue to practice your dishonest and misleading ways of doing business. I'm sure you will find some poor soul to deal with you. You know that you were wrong in our situation and just refuse to admit this fact. You may do great charity events and get involved in the community but it doesn't make you great in dealing with car sales.
Price Gouging and Terrible Workmanship
by For Real , 12/29/2010
Every time I used the service department I was gouged and the work was not good. This last time I was charged almost $1500 and my car was still not fixed and then they wanted to charge me another $7000. My car has serviced every 3 months and I am the original owner. I requested my car back and took it to my mechanic, he stated 90% of the gouges were rediculous such as $1300 for rack and pinion leak. There was none. I have dealt with Chapman at the autoshow and E Sahara. I will never do business at Chapman service or ever buy another Chysler. I valet parked for over 30 years and amazed these businesses can consistantly get away this kind of service and terrible products. I got my car and bought a Hyndai.