(5)
(303) 778-6026
2331 E Ohio Ave
Denver, CO 80209
Wednesday 10:00am - 5:00pm (show)
Monday: --
Tuesday: 10:00am - 5:00pm
Wednesday: 10:00am - 5:00pm
Thursday: 10:00am - 5:00pm
Friday: 10:00am - 5:00pm
Saturday: 8:00am - 1:00pm
Sunday: -- (hide)
http://www.dexknows.com/business_profiles/bonnie_brae_repair-b531721
Is this your business? Claim it now!
You bring it, we build it, repair it, clean it or even design it.
Hours:
MON

----

TUE

10:00am - 5:00pm

WED

10:00am - 5:00pm

THURS

10:00am - 5:00pm

FRI

10:00am - 5:00pm

SAT

8:00am - 1:00pm

SUN

----
Description: Bonnie Brae Repair has been providing Denver with superior lighting needs and lamp repair for over 20 years. We have a wonderful showroom of chandelier and sconces of all shapes, sizes and design. We refurbish all types of chandeliers and sconces. Also, we carry a complete line of lighting fixture supplies and parts, and have a large selection of crystal prism replacements of all shapes, sizes and colors.

Our large showroom of special one-of-a-kind refurbished items include:
*Chandeliers
*Sconces
*Table & floor lamps
*Great iron pieces from South America
*Elegant crystal chandeliers and Sconces

Anything from sockets to chandeliers, if we don't have it, we will try to get it.

Call us or visit our location today for all your lighting needs, supplies & repairs!
Lamps near Bonnie Brae Repair
PHOTOS AND VIDEOS (1)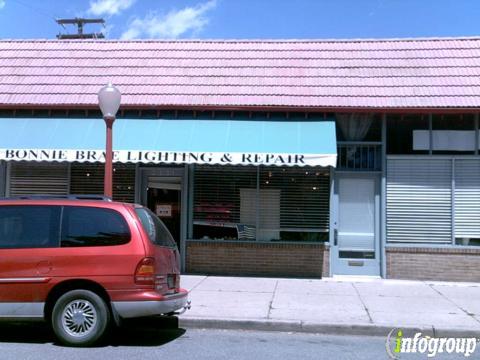 Fantastic
by CostaRicaSibu , 09/03/2013
They fix all kinds of problems with wiring, find globes one can't find anywhere else, and are delightful to deal with
awful service
by Mark , 08/21/2013
they "fix" my lamp and I had to go back 3 times... for a simple nightlamp... c'mon... stop using cheap parts and check what you fix...
EXPERTISE TO BE PROUD OF EXPERIENCING
by FRED R HATCHER , 01/18/2013
OUR FAMILY HAS MANY FLOOR AND OTHER LIGHTING FIXTURES REPAIRED OVER THE LASE 15 YEARS. THEY ARE PROMPT, DELIVERED WELL WITH-IN THE TIME PROMISED, COURTEOUS, AND BILLED AS PROMISSED. WHAT MORE COULD A BUSINESS OR PERSON EXPECT? NOW IT IS YOUR TURN TO EXPERIENCE THE JOY OF THEIR LABOR AND EXPERTISE!!!
Excellent service
by Tracy , 03/09/2012
If they don't have it for your chandelier I don't think anyone else will either. Great service and extremely knowledgeable.
outstanding
by great , 01/17/2012
Have been using this shop for years and they still excel. Keep it up.