Southwest Florida's Leading Lawn Mower And Equipment Dealer Since 1964.
Owner Verified
2715 Fowler St
Fort Myers, FL 33901
Saturday 7:30am - 12:00pm (show)
Monday: 7:30am - 5:00pm
Tuesday: 7:30am - 5:00pm
Wednesday: 7:30am - 5:00pm
Thursday: 7:30am - 5:00pm
Friday: 7:30am - 5:00pm
Saturday: 7:30am - 12:00pm
Sunday: closed (hide)
powered by
Hours:
MON

7:30am - 5:00pm

TUE

7:30am - 5:00pm

WED

7:30am - 5:00pm

THURS

7:30am - 5:00pm

FRI

7:30am - 5:00pm

SAT

7:30am - 12:00pm

SUN

closed
Description: Founded in 1964, John and Ruth Barry established Barry's Gravely Tractors as the top lawn mower dealer in Southwest Florida. Their three sons - John, David and Steve - have since continued the tradition of selling and servicing the industry's top performing lawn mowers and outdoor power equipment at our Fort Myers dealership.

Our state of the art showroom and service area are built to sell and service the products we believe in from the top manufacturers in the industry including Gravely, Stihl, Wright Manufacturing, Scag, Honda Power Equipment, Billy Goat and Little Wonder.

We are well stocked with parts for the lawn equipment we sell and our service department is second to none.

Whether you're a homeowner, contractor, lawn care company, municipality or golf course, our goal is to exceed the expectations of every customer who enters our doors. That is why our customers come back year after year. That is what separates us from the competition.
Payment Methods:
MasterCard, VISA, Personal Checks
Brands:
Snapper, Stihl, Scag, Gravely
PHOTOS AND VIDEOS (1)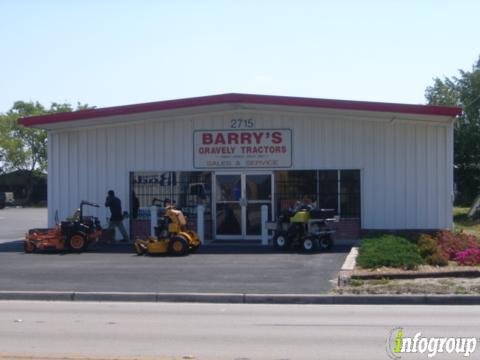 Be the first to write a review Barry's Gravely Tractors, Inc.