(5)
(303) 289-4100
8501 Grant St
Denver, CO 80229
Sunday 10:00am - 10:00pm (show)
Monday: 10:00am - 10:00pm
Tuesday: 10:00am - 10:00pm
Wednesday: 10:00am - 10:00pm
Thursday: 10:00am - 10:00pm
Friday: 10:00am - 10:00pm
Saturday: 10:00am - 10:00pm
Sunday: 10:00am - 10:00pm (hide)
http://www.dexknows.com/business_profiles/american_furniture_warehouse___main_store-b483256
Is this your business? Claim it now!
We Deliver To Almost Anywhere Within the United States
Hours:
MON

10:00am - 10:00pm

TUE

10:00am - 10:00pm

WED

10:00am - 10:00pm

THURS

10:00am - 10:00pm

FRI

10:00am - 10:00pm

SAT

10:00am - 10:00pm

SUN

10:00am - 10:00pm
Description: Here at American Furniture Warehouse, our mission is to provide our customers with quality furniture at the lowest prices. Locally owned and operated by Jake Jabs since 1975, American Furniture Warehouse has the largest selection of furniture and accessories under one roof. An A+ member of the Better Business Bureau, we deliver everywhere in Colorado and can now ship to all 50 states. Buy furniture, art & accessories online.

We have numerous locations within and outside of Metro Denver in areas.

Furnishings can be bought for the:
* Bedroom (we're the largest seller of mattresses)
* Living Room
* Dining Room
* Home Office
* Entertainment Room
* Patio

Visit our store in person and see for yourself...let our experts help you, or visit us online as often as you like.
Wholesale Furniture near American Furniture Warehouse - Main Store
PHOTOS AND VIDEOS (1)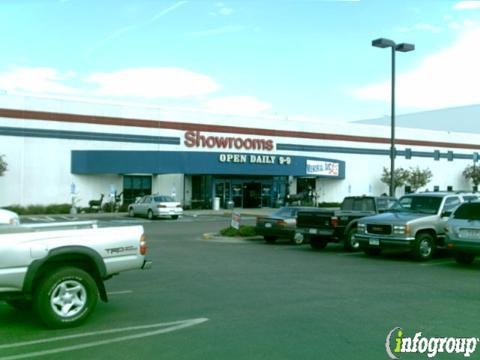 HORRIBLE EXPERIENCE
by jz , 04/06/2012
horrible place to shop..cheap,cheap,cheap
Great furniture at inexpensive prices
by Cory , 08/19/2009
I purchased an awesome living room set for my apartment that was actually in my budget. The salesman was really nice and helped me find exactly what I was looking for. I'll be back when it's time to redecorate for sure!
They dont stand behind their products
by janman , 08/11/2009
We purchased a couch that ended up on the AFW defective items list...they didn't notify us, even when we called and had a technician come to repair the peeling skin of the couch.After calling AFW, they said they couldn't do anything about it...well, they didn't notify us that the couch had a recall on it, so I guess they wouldn't do anything for us now either. Just beware, anything you buy there is "as-is", no matter what the warranty says.
Great selection of Kid's Furniture
by JC , 10/25/2007
Found fantastic deals on kid's furniture. Quality is good for the price.
Worst retail experience ever
by Leann B , 08/20/2008
AFW=All Fools Welcome. More lies than congress. I was looking for inexpensive and I got CHEAP. The finish smells so bad it is probably toxic. Impossible to work with this staff.
View all reviews for American Furniture Warehouse - Main Store