(1)
(503) 771-7202
8828 SE Division St
Portland, OR 97266
Friday 9:00am - 6:00pm (show)
Monday: 9:00am - 6:00pm
Tuesday: 9:00am - 6:00pm
Wednesday: 9:00am - 6:00pm
Thursday: 9:00am - 6:00pm
Friday: 9:00am - 6:00pm
Saturday: 9:00am - 6:00pm
Sunday: 10:00am - 5:00pm (hide)
http://www.dexknows.com/business_profiles/al_s_lawn_mower_sales_and_service-b272112
Is this your business? Claim it now!
Hours:
MON

9:00am - 6:00pm

TUE

9:00am - 6:00pm

WED

9:00am - 6:00pm

THURS

9:00am - 6:00pm

FRI

9:00am - 6:00pm

SAT

9:00am - 6:00pm

SUN

10:00am - 5:00pm
Description:
Al's Lawn Mower Sales and Service has been providing lawn mower sales and service to residential, commercial, and industrial customers in the Portland Oregon area for many years.. We offer a wide range of homeowner, professional contractor, and industrial equipment for a wide variety of lawn and garden projects. Our exceptional service department supports your needs long after your purchase has been made. We have experienced and qualified mechanics on duty to assist you, and we have an extensive
Lawn Mowers near Al's Lawn Mower Sales & Service
PHOTOS AND VIDEOS (2)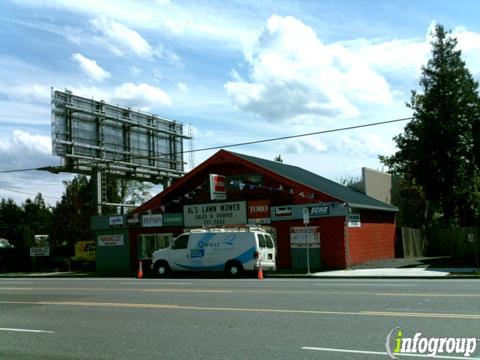 Homeowner
by Doug Hartung , 08/24/2009
I have been using Al's exclusively for for somewhere around 20 years, give or take. Is there any place else to go??? Their Customer Service is only exceeded by the quality of their service. Even 2 service calls to my home because of my stupidity. To the 3 people who came out to my house recently, Mark, Aaron and Mathew (I beleive were thier names, sorry I am real bad remembering names) were superb at their customer service skills; and should be commended. I really appreciate their pick-up & delivery service at a very reasonable, nominal charge. It saves my a big headache. You only get 5 stars cause that is all I'm allowed. Many Thank You's to Al's.Doug
They overpromise and underdeliver
by 1 Papou , 11/15/2010
Took my almost new Ryobi mower because it wasn't charging. They gave me an estimate of 7 days. Two weeks after leaving it they hadn't even looked at it. Took three calls to get them to prioritize it and then over 10 days for them to get the recharging unit in. They were going to check out the recharging unit and the battery. Picked it up two days before their stated policy on their invoice said "Anything left over 30-day will be sold. NO EXCEPTIONS". Just checked it out and the battery isn't functionally propertly. So it's half fixed, I'll find some other repair center for the battery. What a way to run a business.... Wouldn't recommend them to anyone.1
buyer
by green thumb, flowers and weeds , 08/24/2009
I've been in Al's several times. Once just to look at the lawn mowers and weed eaters. The sales person spent time explaining the differences of the lawn mowers. I returned to buy and continue to be pleased with the sales person and her knowledge. A bonus: they have a guarantee and will personally handle any problems.Al's has been in this location for decades and with their personal service will be there forever.
Rip-Off
by scodoug86 , 04/22/2010
Small store with barred windows, heavy steal door, no parking and strong smell of gas. I made the mistake of taking my mower here for warranty repair. Had to pay $25 down for the estimate. They decided not to fix the mower under warranty because they didn't think the manufacturer would reimburse them. The price they quoted me was almost what I paid for the mower. I didn't get my down payment back. When I picked up my mower it was in pieces. Do yourself a favor and go somewhere else. Most of what I saw in the store looked like used mowers with almost new prices. I doubt they will be around much longer.