(1)
(702) 458-7575
3265 E Patrick Ln
Las Vegas, NV 89120
Friday 9:00am - 9:00pm (show)
Monday: 9:00am - 9:00pm
Tuesday: 9:00am - 9:00pm
Wednesday: 9:00am - 9:00pm
Thursday: 9:00am - 9:00pm
Friday: 9:00am - 9:00pm
Saturday: 9:00am - 10:00pm
Sunday: closed (hide)
http://www.dexknows.com/business_profiles/fern_adair_conservatory-b1360160
Is this your business? Claim it now!
Established in 1973. Over 200 classes per week.
Hours:
MON

9:00am - 9:00pm

TUE

9:00am - 9:00pm

WED

9:00am - 9:00pm

THURS

9:00am - 9:00pm

FRI

9:00am - 9:00pm

SAT

9:00am - 10:00pm

SUN

closed
Description: Fern Adair Conservatory Of The Arts is a premier dance studio and gymnastics facility serving the entire Las Vegas valley, Henderson, Summerlin, Anthem, Pahrump, North Las Vegas, and Centennial Hills.

Our 21,000 square foot facility includes 6 dance studios, 2 music rooms, and an 8000 square foot gymnastics area. Including our very own boutique where you can purchase shoes and dance apparel.

Our dedicated instructors teach:
*Ballet
*Jazz
*Tap
*Hip Hop
*Contemporary
*Lyrical
*Acrobatic Dance
*Team Gymnastics
*Aerial Gymnastics
*Recreational Gymnatics
*Music
*Vocal
*Piano
*String Instruments
*Theatre
*Childrens Workshops
*Thespian Players
*Karate
*Iaidio
*Yoga
*Tai Chi
*Ninja Night
*Parents Night Out
*Birthday Parties
*Performance Teams
*Competitions
*Pageants
*Mommy and Me Classes
*Private Lessons
*Community Performances
*Fantasy Petite
*Concert Fantasy-A Benefit for The Make A Wish Foundation of Southern Nevada

Our classes are available for children, teenagers, adults, and seniors.

Studio Rental Available.

Call us today to schedule a class!
Additional Contact Information
Fax: (702) 458-6322
Dance Studios near Fern Adair Conservatory
PHOTOS AND VIDEOS (2)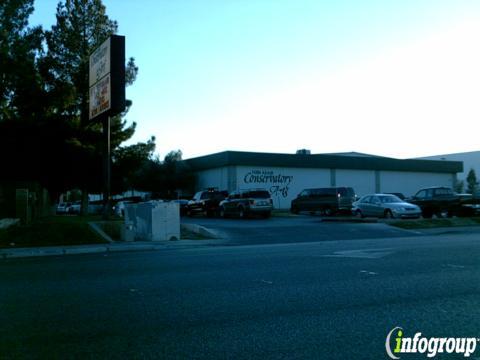 Memories are Made at The Fern Adair Conservatory
by Valerie , 10/02/2013
I danced at Miss Fern's original studio years ago and now have my daughters and son at The Fern Adair Conservatory of the Arts. She is an amazing director of the school and is giving my kids the same amazing opportunities and great memories that I had as a young dancer and gymnast. All of the gym coaches and dance teachers love what they do and it shows. I highly recommend this school. Your kids will love it and have memories for years to come.