Pawn -- Buy -- Sell
Owner Verified
2840 Santiam HWY SE
Albany, OR 97322
powered by
Description: We Pawn - Buy - Sell - Trade:
Have you ever been to one of those places that after you walk through the door your just blown away by how much there is to it? Ace Buyers in Albany, has a uniquely wide array of different options to choose from. Everything from: Jewelry
Guns
Guitars
Gold
Coins
Collectibles
Video Games
Tools
DVDs
TV'S
Car Audio
CDs, Etc...
Albany Oregon, Eugene Oregon, & Springfield Oregon

Stop by today and see what's new!

Member of National Pawn Brokers Association.
Payment Methods:
Bank Checks, Cash, Debit Cards, Financing, Mastercard, Visa
Area Served:
Albany;Albany, OR Metro;Corvallis, OR Metro
Minority/Female Owned:
Locally Owned
Products:
Air Compressors, Amplifiers, Power Tools, Diamonds, Earrings, Rings, Cases, Gold, Guns, Bracelets, Guitars, Necklaces, Pins, Tool Boxes, Used Musical Instruments, Wedding Rings, Hand Tools, Hydraulic Tools, Gun Safes, Handguns, Used Guns, Silver Jewelry, Platinum Jewelry, Used Jewelry, Rifles, Shotguns, Wholesale Jewelry, Woodworking Tools, Machine Tools, Used Tools
Services:
Trade Jewelry, Pawn Cars, Pawn Coins, Pawn Gold, Pawn Guns, Pawn Jewelry, Pawn Musical Instruments, Pawn Shops, Pawn Tools, Jewelry Buyers
Specialities:
Pawn Cars, Pawn Coins, Pawn Gold, Pawn Guns, Pawn Jewelry, Pawn Musical Instruments, Pawn Tools, Wedding Jewelry
PHOTOS AND VIDEOS (3)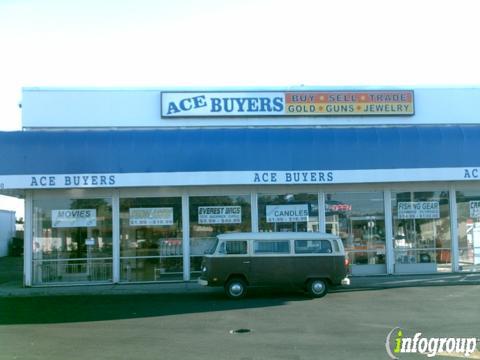 Be the first to write a review Ace Buyers
Very inpersonal not real nice
by Jay , 03/16/2015
Hard to get help and not good help when you get it. A dismal experience after visiting some Portland pawn shops.
RUDE, OLDER BLONDE LADY, AVOID THIS SHOP AND TRY ANOTHER PAWN STORE. ANY ONE WOULD BE BETTER.
by jordan , 01/22/2013
Asked for 10% off if I spent $100. The lady looked at me like I was crazy. Then said she would see once I brought up the items. Then she looked at my shirt and made some smug comment and smirked like I was trying to rip her off. A simple yes or no. Why be rude? Expensive and rude. what a combo. How are places like this even open?